So, I decided to take on a new hobby! Yes, I know it sounds counterproductive but it kind of incorporates all my other crafty pursuits in a more low key version! And it's super pretty and super fun! Making new friends is an added bonus along the way!
What is it? Well,
I've fallen in love with SNAIL MAIL!
Or perhaps back in love is more appropriate as I've always dabbled in arty envelopes, penpals and thank you notes! Much of this is thanks to the amazing inspiration from my Aunt who has graced me every birthday, anniversary, birth of child and other special occasions with amazingly hand stamped envelopes, wonderful penmanship and usually a sprinkling of sparkles to ensure it's opened with an extra dose of happy!
(My girls are holding recent envelopes from my Aunt in this image below!)
Do you Snail Mail? Would you like to?
Here's 10 things that will leave you inspired and
ready to send a letter today!
1. Snail Mail can be
big or small.
This image is from a cute blog called
Tiny Things
but truly there is no rule of size, weight, contents when it comes to snail mail. There are definitely groups where people have common interests or like to post certain things but it's wonderful to send your first snail mail to people who are already in your life who you know would love to open a colourful envelope or even just to find something in the mailbox with their name on it that is not a bill! We began with my girls posting to their Great Nanna's, something I had done to my own Great Nanna in England when I was around 10 years old. From there I decided I wanted to snail mail again for myself!
2. A
pretty envelope
brings a big smile. There are so many amazing snail mailer's out there designing the most beautiful envelopes!
This video
is a fabulous example of some tips to make something as stunning as this without too much fuss!
3.
Stamps
can be used over and over again. More environmentally friendly and resourceful than lots of stickers or tapes. Why not try carving some of
your own like these ones
? My sister in law made me an awesome stamp set by carving them from erasers! She's a bit too clever sometimes! Check out my growing Pinterest board of DIY stamps
here
4. In saying that,
Washi tape
is always a winner. I came across these
cute washi tape pencils
adorning this envelope on Pinterest and know I have to do this soon! And with places like the dollar store, Kmart and Target now selling decorative washi tapes they're so easy to become addicted to! Speaking of addicted - check out this
keyboard
!
5.
Origami
can make a letter memorable. Or perhaps bring back a high school memory! Try folding your letters like
these ones here
and you'll be taken back to the days in the classroom passing notes in no time! Why not pick one of your high school girlfriends and send her one of these!
6.
Typography
is your friend when it comes to snail mail. It can brighten up a letter so easily and make such a difference to your letter/package! Here's some fabulous
ways to address an envelope
!
7.
Cute additions
are popular with snail mailers. Think
washi tape samplers
, restaurant cards/coasters, post it notes and stickers. And so many more things too! Often just a small, simple treasure that demonstrates a little about who you are or where you're from can become a treasured keepsake for your penpal.
8.
Ask questions
. You want to keep the conversation going, so ask your penpal some questions about themselves, their family, town, country or passions. Here's
some fun questions
that could be added into your next snail mail letter.
9.
Paint it if you can
. The wonderful
Naomi from Naomi Loves
is an avid snail mailer and sends the most delightful packages. I should know - we've been thrilled to receive a couple now and my girls were particularly chuffed to get their own hand painted envelopes this time too! Start simple but using paints on envelopes brings some added uniqueness to your recipients mail box!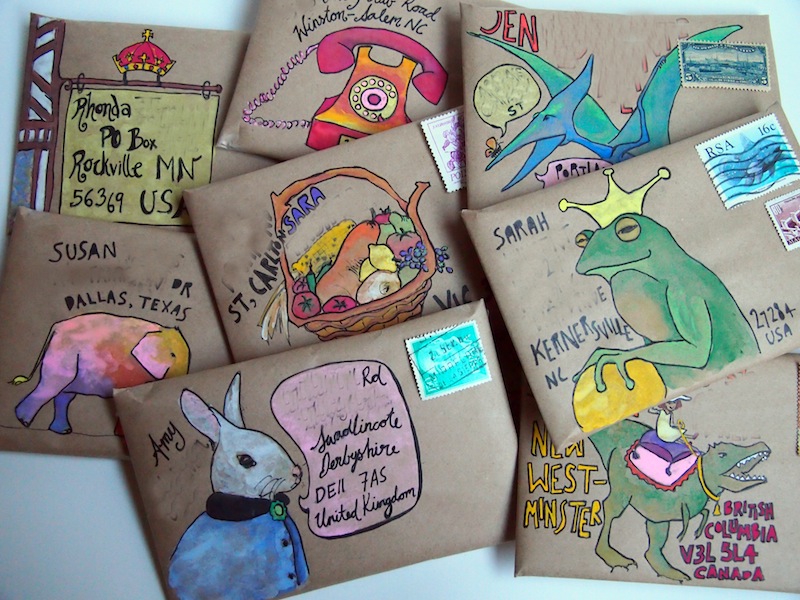 10.
Enjoy it!
The feeling of receiving a parcel, letter or postcard is truly second to none! My girls are constantly quizzing me over the contents of our mailbox each time I collect the mail. Hoping for something exciting, yet they're also distinctly aware that snail mail is a little give and a little get. And they're super willing to participate and now have a few pen friends across the globe!
I'd love to know what your best snail mail memory is? I'm hoping we've all got one!
And
if you would like to receive something from myself and my girls in the post
please send me a quick email to justfordaisy11(at)gmail(dot)com and I would LOVE to send you something to make you open your mailbox and SMILE!!! Perhaps it will kick start your own snail mail journey - or reignite an old flame!